Patient Services
X-Ray Facilities
We have an excellent and very busy Radiology Department. For several years we have been using a Digital imaging system. Our images are stored on computer and can be put onto a disc or emailed at the patient's request. Our Radiographers are all registered and licensed.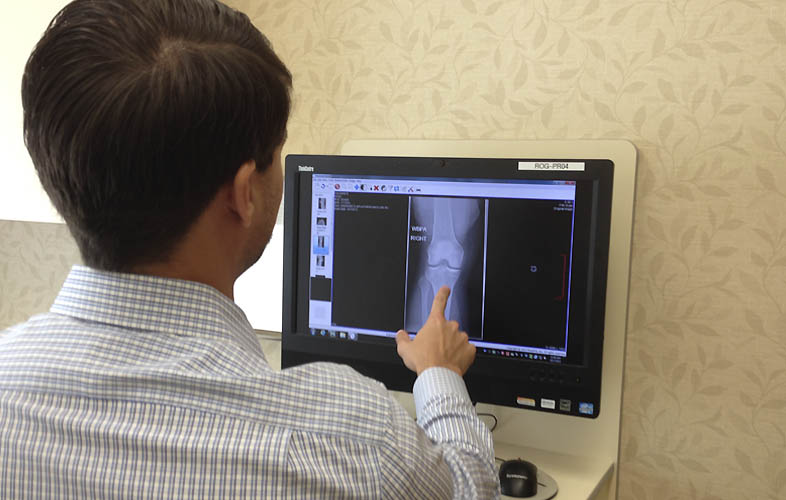 Total Joint Surgery Services
Prior to scheduling surgery our "Total Joint" patients are given a detailed booklet and video explaining the surgery and answering frequently asked questions regarding after surgery activities and precautions.
After scheduling the surgery, these patients come to the office for a "Pre-Operative" educational session here in the office. This is an hour long meeting designed to make sure that each patient is fully prepared for their surgery. One of our nurses will obtain an extensive medical history from the patient, explain the details of surgical preparation and discuss reasonable expectations of the entire process. This ensures that we have all the necessary clinical information about our patient prior to surgery and that our patient is well informed.
We encourage our patients to bring a family member with them, and a list of questions for this meeting. By the end of the session, our patient should have a clear understanding of their surgery, hospital stay and postoperative recovery. Our intent is that every Total Joint patient be fully educated and prepared for their operation.
Our Pre-op Teaching Nurse is involved with patients having joint replacements throughout the entire process. She is available to the patient throughout the pre and post operative recovery. We feel that this constant communication enhances the patient's experience and enables us to provide better care and service to our patients.
Clinical Research
The doctors and staff at Ridgewood Orthopedic Group are committed to the advancement of knowledge in the field of orthopedics. Advancement of knowledge can result in the development of new knee and hip implant designs, or in the improvement of patient treatment protocols, all of which lead to the improvement of care and the potential for improved outcomes for patients with arthritis of the hip or knee.
As a patient of Ridgewood Orthopedic Group, with your consent, your treatment information may be used as part of data gathering process for a research study. Your involvement in a study requires no additional effort on your part and all your personal information is kept confidential. By combining the data from your treatment with the data from other patients we are able to evaluate overall treatment and make improvements to the care of future patients. Our office employs a full time Clinical Research Coordinator, and all studies are managed to the standards set forth by the Valley Hospital IRB. They are often run in cooperation with Stryker Orthopaedics, one of the larger worldwide manufacturers of orthopedic products.
We, at Ridgewood Orthopedics, are proud of the contribution we can make toward the advancement of arthritis and total joint replacement care. We hope that you share in our vision to improve the treatment of other future patients.